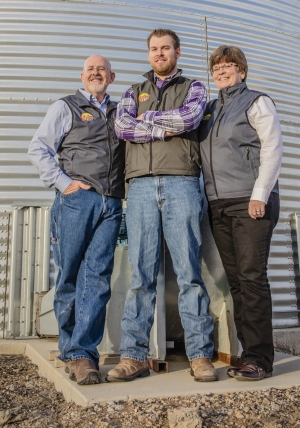 Celiac? Gluten Intolerant? Welcome To GF Harvest: Learn what it means to trust your food again. Thank you for allowing our celiac family the opportunity to serve you. We understand how frustrating it is to find safe GF products. Order direct from the brand name trusted for reliable gluten-free oat products.
Our Story - GF Harvest: (right: owner- founders: Seaton Smith, Forrest Smith, Jill Smith) Our son, Forrest Smith, was diagnosed celiac at age two. Just like you, we had been through it all, the suffering, the uncertain diagnosis, the fear that all health mysteries bring to a family. Finally, with his diagnosis, we understood what his diet limitations were. But we lacked guidance, and most of all, we lacked reliable trusted sources of food. Since then my wife and I, along with many other relatives on both sides of our family, have been diagnosed. This give all of the owners of GF Harvest a unique firsthand understanding of the "issues" you face if your food is cross contaminated. Throughout Forrest's childhood, our family has been active in local and national support groups helping people cope with the frustrations of being on a GF diet.
That could have been the end of our story; acceptance and living with limitations. But, what happened next was amazing...
A Need, An Idea, A Project, A Company: Instead, this involvement created a quest. Our son Forrest decided to seek a trusted solution for his restrictive diet. This led him into an innovative high school project and then designation as an FFA Entrepreneur. From there, the idea grew. The project resulted in the founding of glutenfreeoats.com and GF Harvest. We became the first domestic source of natural and organic oats for folks like us on a gluten free diet.

Our Products: Taste the difference; our oats have a FRESH ROASTED FLAVOR that can only come from a steamed, shelf stable product. We control the process from the seed through our dedicated mill. From there, we package then ship your products in a dedicated warehouse facility.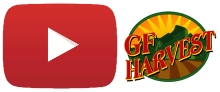 Our Processes: We go the extra mile so your bowl of oatmeal or treat is SAFE by: Using a stringent set of requirements to grow for us, along with personally walking each field so we have traceability from planting to package:
Dedicated growing fields and equipment isolated from gluten contamination.
Testing every truck before entering the mill
Double testing in our lab with monthly sample re-verification by an independent lab
Making sure each bag of oats is from non-GMO seed
Processed in our DEDICATED Gluten Free Mill
Packaged and stored in our DEDICATED Gluten Free warehouse and production facility
Does your oat brand take that much care to earn your trust? Knowing how committed our family-owned company is to your safety, are you comfortable using anything less?
Trust Any Label That Claims Gluten Free? Some oats being used in "Certified" or so called "gluten free" products are not grown and processed with a purity protocol. One major USA manufacture stated at the AACC meeting in 2015 that they pull 12-24 samples out of each batch and average 10% of these samples over 20 parts per million (ppm). So that 10% of the finished product could make a person on a GF Diet sick!
Learn more how GF Harvest earns your Trust From The Start.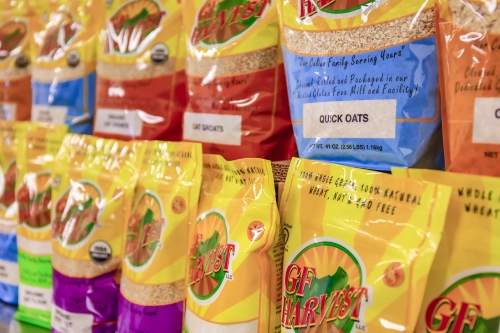 Use the menus to browse our products. Order direct from the manufacturer.