GF Harvest - Who We Are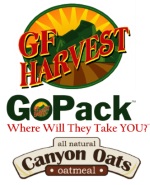 Who We Are:
This company is owned and operated by a family diagnosed with celiac disease.
Forrest Smith, the founder of the company, was diagnosed with Celiac Disease (CD) in 1990 at the age of 2. Throughout the next 25 years his family has had over 10 other family members diagnosed, including his mother and father. As a freshman in high school, he was charged to create a business and wanted to give back to the gluten free community.
This is where his vision of GF Harvest started. Now, both parents and Forrest are running the company providing the first dedicated gluten free oat mill in the United States with the purest source of oats for over a decad
e.
GF Harvest is certified by GFCO at 10 ppm or less, Kosher, Organic and Non-GMO verified with a proven history of purity.
The following Certification agencies hold us accountable to you as we serve each of our customers.